New & Improved Web3 Tooling for Creators, Developers & Enterprises
When we launched V1 of our marketplace in 2020, our goal was to build a platform that would remove some of the friction for creators and collectors, so they could explore the possibilities of Web3 without being overwhelmed by all its complexities.
As an early player in the space, we onboarded thousands of new creators and collectors, helped launch several major artists careers, and powered early releases for legacy artists and brands like Atari, 3lau, Dave Krugman, Aimos, Nate Hill and Sh0lms.
In V2 we introduced gasless transactions, minting to Flow, USD pricing and credit card support along with a host of other exciting features that users couldn't find anywhere else, including mobile minting and the ability to tokenize physical goods.
But while we succeeded in removing some of these barriers, we also realized that artists need more than just features to be successfully onboarded for the long haul. They need better tools to flourish once they become Web3 native.
We have always questioned the role of the platform in a market built on enabling creators to bypass intermediaries and connect directly with their communities in ways that weren't possible before. This is what decentralization is all about.
And since our mission from day one has always been to empower creators to build truly self-sovereign economies around themselves, their work and their communities, the time has come for Blockparty to evolve.
We're entering a new era, and we couldn't be more excited.
Introducing:
The New Blockparty
The vision for Blockparty has always been to serve as more than just a platform or marketplace, but as the basis for supporting countless Web3 destinations. We believe that creators shouldn't have to rely on any one platform to sell their work, they should have access to all the tools they need to forge their own path.
That's why over the past several months our team has been hard at work developing a whole ecosystem of products that make it easy to work with NFT data, host your own secondary, and create rich, integrated experiences in Web3.
While we'll still be the Blockparty you know and love, these changes form part of our bigger vision to enable creators to be more autonomous in Web3 and provide stronger infrastructure that's built with long-term self-sovereignty in mind.
Let's take a closer look.
NFT Data:
Indexing Made Easy For various Web3 projects and applications from decentralized exchanges to marketplaces and dynamic NFT collections, access to historical and real-time NFT data is critical.
However, there are limited resources and a lack of usable standardized tooling for analyzing on and off-chain data. The tools and protocols that do exist, like the Graph, can take several months to index, making app development an extremely arduous and time-consuming process.
As builders of Web3-native apps ourselves, this is an issue our team experienced first-hand when engineering the NFT.org DEX, a decentralized trading protocol which relies upon real-time NFT data for exchanging tokens. Realizing the need for faster and more reliable infrastructure, we set our sights on building one of the most powerful indexers for large scale NFT data aggregation - and now we're making this available to you.
Our enterprise grade indexer is capable of capturing token data for every NFT and ERC-20 on Ethereum and Polygon, along with all metadata and media, and stores it all in one place, making it easy to work with at any scale.

Its main features include:


Fast and reliable access to NFT data: Our indexer processes up to 100k tokens per minute, so you can query the most current data available with very low latency.

Access all token media and metadata: Our indexer automatically identifies and captures metadata changes, making it easy to build automations, monitor on-chain events, power dynamic NFTs applications, and so much more.

Easy-to-use GraphQL API: Our database is optimized to be fully accessible via our GraphQL API, to standardize the way you work with on- and off-chain data.
We want to make it easier for creators and developers to access and interact with NFT data in new and interesting ways. In doing so, we hope to create a more accessible foundation for creators to continue to innovate in Web3 and become more self-sovereign over time.
Have an idea for a project or application? Our team will work with you on a case-by-case basis to create custom implementations that are uniquely tailored to your needs. To find out more about how we can help you, request a consultation today!
Community Drops Program:
Custom Storefronts on Your Own Domain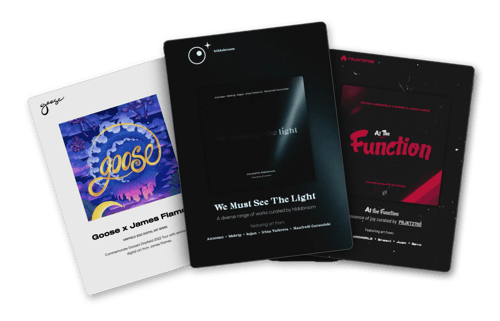 We might be saying goodbye to our marketplace, but our commitment to advocating for the creator community will always come first. Through our Community Drops Program, we're partnering with a select cohort of artist collectives and curators to power custom NFT drops on their own domain, complete with personalized branding and smart contract integrations. This has a few advantages:
A more on-brand selling experience: By allowing buyers to purchase NFTs at your native brand level, you can ensure your drop aligns with the vibe of your community – not a third-party marketplace.

Web3 freedom: Custom drops on your own domain and contract exist independently from top selling platforms, which reserve the right to delist your NFTs at any time or freeze assets traded through its smart contracts.
Last year we curated a few select projects we wanted to create Community Drops with during our private Alpha testing phase, which included Goose, Trudy Lines, and NFTSea.NYC. Each of these projects enabled us to iterate on our vision of providing more flexible solutions for creators to mint and sell NFTs within their own branded environment.
Now in private beta, we're opening up our tooling to a wider cohort of ambitious Web3 creators, curators and collectives through a series of Community Drops taking place over the course of 2023.
So far we've hosted successful drops for the likes of curator HildaBroom and artist collective PRJKT2700. These are customized mint pages built by the Blockparty team, so projects are selected on a manual basis. If you have an idea for a curated drop, get in touch. We would love to talk to you!
MultiDEX:
Own Your Own Secondary Market Our MultiDEX toolkit is designed to offer you more control over your secondary market by enabling you to integrate NFT trading directly into your website or application. This has a few perks:
Filter out the noise: Customize the look and feel of your exchange and bring your community closer together by enabling them to trade within a branded community setting.

Control your own royalties: At a time where royalties aren't always a given, hosting your own dedicated DEX allows you to secure this income stream by ensuring the creator fee is always paid.

Build trust with your community: Ensure collectors you're the real deal and protect your community from copycat collections and scams that put your community at risk.

Web3-native trading: With a 100% decentralized trading protocol, your community will always be able to trade their NFTs and you don't have to rely on a marketplace that could censor or delist your collection at any time.

Powered by smart contracts: Our MultiDEX toolkit will unlock all kinds of new ways for your collectors to trade NFTs on your own platform that's powered by your own smart contracts, not a centralized platform you have to depend on.


We're looking forward to releasing our MultiDEX in Summer 2023 and will be sharing more updates and developments with you soon.
Looking Ahead
In a market that moves at an aggressive pace, this shift in our core business model reflects our ambition to evolve with the needs of the NFT community - to prioritize self-sovereignty, and provide a more sophisticated ecosystem of products that reflect the dynamism of the space and continue to push Web3 forward.
We want to thank all of our creators, partners, and supporters who have helped us get to where we are today. We're excited about the future of Blockparty, and look forward to continuing to work toward our mission to empower creators to build truly self-sovereign economies around their communities and close the gap between primary and secondary markets for all.
If you're a creator, collective, developer or enterprise brand interested in working with our new suite of products, don't hesitate to reach out. We'd love to hear from you.
Thank you for believing in us!